Ralf Rangnick branded this as unwanted deja vu for Manchester United. The interim manager drew comparison with the tales of two halves that were the draw at Burnley and the penalty shootout defeat by Middlesbrough.
In those last outings United cruised before the interval and lost the plot after it. This time they again conceded after the tea and oranges though there was marginally more structure against a spirited Southampton.
Rangnick said: "We were fully aware after the last couple of games that it was important to be as aggressive as we can. We told them we had to be aggressive, compact, not give them space," he said of half-time. "After two minutes exactly that happened: we were in possession in their box and 10 seconds later conceded a goal. Very frustrating – not only for the coach but players as well. You saw their reaction with how disappointed they were after the goal. That's one of our major problems: we have to be compact and able to defend."
Ralph Hasenhüttl, whose side lost 9-0 in last season's corresponding fixture, offered a scathing assessment of United. "Its not a big secret that when they lose the ball their reverse gear is not the best from everybody," he said.
Rangnick's side began with a Marcus Rashford punt into the area that skipped past Cristiano Ronaldo and drew a thumbs-up from the Portuguese. When Jadon Sancho's burst and pass did locate Ronaldo, he rounded the goalkeeper, Fraser Forster, but his weak shot was hacked clear by Romain Perraud.
The goal-saving left-back act was soon mirrored at the other end by Luke Shaw. A breathless passage started when Kyle Walker-Peters turned a ball back towards an unmarked Ché Adams. At close range the striker could only shoulder it away from David de Gea and the net and when James Ward-Prowse blazed at the rebound in dived Shaw to block.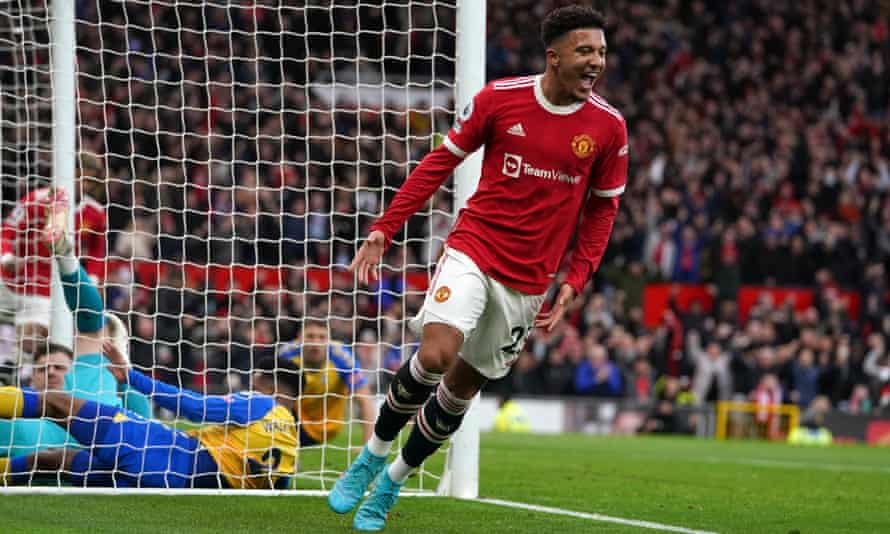 Rangnick said beforehand that Ronaldo, restored to the team in place Edinson Cavani, and his fellow forwards had to score more – an exhortation seen by some as stating the obvious. Really, though, it was a stark message to Ronaldo, Sancho, Rashford and Bruno Fernandes that 16 goals in the German's 12 matches was paltry for players whose salaries include a large chunk for scoring.
Sancho was about to do just this and could thank Rashford, who provided his second league assist of the season. Fernandes was key, too, his raking ball allowing Rashford to race in along the right: on seeing Sancho at the far post, the cross was perfect, the England international scoring a fourth this term.
So far, so good. Diogo Dalot and Shaw were sharp at the back, Scott McTominay proved muck or nettles from midfield – demonstrated by a dumping of Mohamed Elyounoussi that drew a booking – and Paul Pogba was a silken-skilled bully who bossed the danger area.
Hasenhüttl's unit, though, would not be dominated and handed United a scare when Mohammed Salisu's throw-in was inadvertently flicked on by Pogba for Stuart Armstrong to take aim at De Gea, who saved. January's Premier League player of the month did the same moments later when lunging left to stop a Perraud skimmer.
United's recent league record was draw, win, win, draw, defeat, win: in microcosm, the tale of a campaign to forget. And now came the second‑half-itis United are suffering from, their midfield and rearguard in slumberland as Elyounoussi received the ball and pinged it to Adams. The No 10's finish, in off De Gea's far post, was pinpoint. Hasenhüttl leaped on to the pitch in jubilation, Rangnick was stoney-faced.
Next, Armando Broja skipped into position to fire at De Gea, who turned the ball away for a corner. From the delivery Fernandes went close to heading past his keeper in trying to clear. United did move upfield and Forster had to repel a Harry Maguire prod from Shaw's free-kick, before the keeper beat away Ronaldo and Dalot attempts.