Liverpool may be in distant pursuit of Manchester City but the chase goes on, thanks to a player whose chances of overhauling the leader in the scoring stakes may be equally remote. Mohamed Salah could go to Africa for a month and retain a sizeable advantage in the race for the Golden Boot but as he made his comeback in a cameo, Diogo Jota showed why Liverpool have the division's two most prolific players by scoring twice.
Liverpool's deficit to City stands at nine points and Jürgen Klopp argued: "I am not sure we are in a position to put them on their toes. I don't think they smell our breath already." Meanwhile, Jota cut Salah's lead to four goals. It could be a gulf too big to bridge given that the Egyptian could have had a hat-trick inside five minutes during his bit-part role, but Jota again illustrated that potency at Anfield is not confined to Salah.
His return to Merseyside progressed better than that of Brendan Rodgers, even if it was far from Leicester's worst result of the week, let alone the season. "We restored the pride," the manager said. "The spirit was really good." Yet if it weren't for Kasper Schmeichel's heroics, it could have been a thrashing. Liverpool amassed 22 shots, 11 of them on target, and the manner of Jota's goals underlined why Leicester have regressed. "Set-pieces are an achilles heel for us," Rodgers said. Few are more likely to concede from a corner, which they did again here, while the Portuguese doubled his tally after Leicester twice gave the ball away within 30 yards of their goal. Joël Matip duly provided a delicate, defence-splitting ball – "a little genius moment," Klopp said – and Jota sealed a fifth straight victory in all competitions.
Schmeichel, who had got a hand to it, was irritated with himself. He need not have been. The former Manchester City player made a valiant attempt to help both his past and current employers. He remains the only goalkeeper to keep a Premier League clean sheet against Liverpool this season, saving Salah's penalty in December's win, but Leicester were unable to stage a sequel.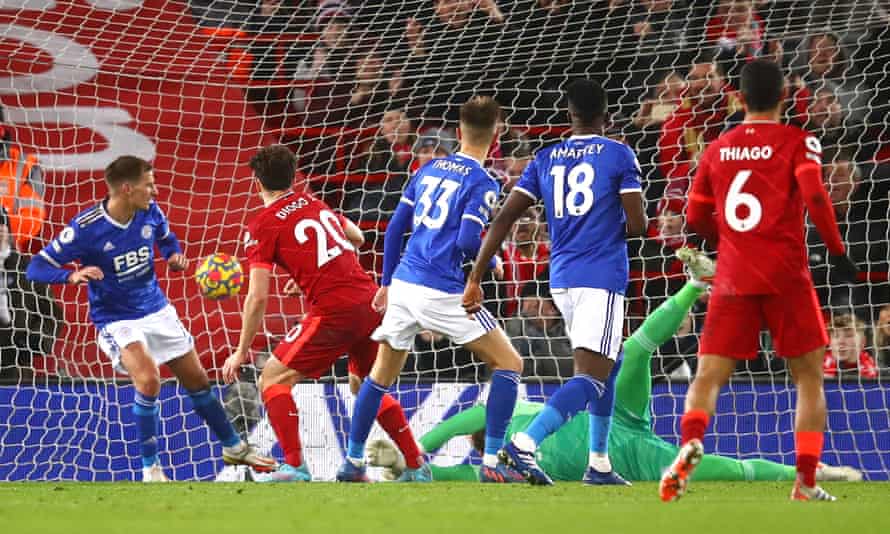 Rodgers attempted to recreate part of that blueprint, pairing the midfielders Wilfred Ndidi and Daniel Amartey in the centre of defence again, with Caglar Soyuncu one of those demoted after the FA Cup humiliation at Nottingham Forest, but sometimes the resistance came down to an increasingly overworked goalkeeper.
Liverpool could be grateful for Jota's predatory instinct and preternatural sense of where space might open up. A signing who has surpassed expectations, he has a handy habit of opening the scoring. "We knew he was good, we had no idea where his limit is or where he can go and I am not sure if he is there yet," Klopp admitted.
And yet, elusive as Jota is, there was something eminently predictable about the manner of the breakthrough. Liverpool had already scored the most goals from set-pieces. Leicester joined Crystal Palace at the top of the table for dead-ball concessions when Trent Alexander-Arnold whipped a corner in. Ndidi left Virgil van Dijk completely unmarked, not for the last time, and, while Schmeichel did brilliantly to save his header, Jota swept in the rebound. With Matip supplying the second goal, perhaps Liverpool's centre-backs were their creators in chief.
Their leading marksman was unleashed for the last half-hour. Salah had been rested after playing extra-time in four matches with Egypt. He was soon rampant. Schmeichel saved twice, reading Salah's attempt to dink a shot over him after he fooled Ndidi with a dummy and surged clear, while a curling effort hit the bar.
But this was a tale of three Liverpool forwards: the constant, the returning favourite and the newcomer. Luis Díaz's full debut was a hugely auspicious affair. "He looked our kind of player in training," smiled Klopp, who then decided to parachute the Colombian in. That impression was soon confirmed. "He looks like a Liverpool player," beamed his manager. Díaz, a fast, direct dribbler, slotted straight in. But for a challenge from Amartey, he would have scored in the first minute. When Salah, showing an embryonic understanding, later released the January signing, Schmeichel somehow kept his shot out. What Klopp termed a "really good performance" brought everything but the goal.
Leicester rarely threatened one. Their best chance was their first one, James Maddison playing a one-two with Ademola Lookman and advancing to unleash a rising shot that Alisson tipped over. Klopp concluded: "It was for sure not the best we ever played but it was really good enough to win."