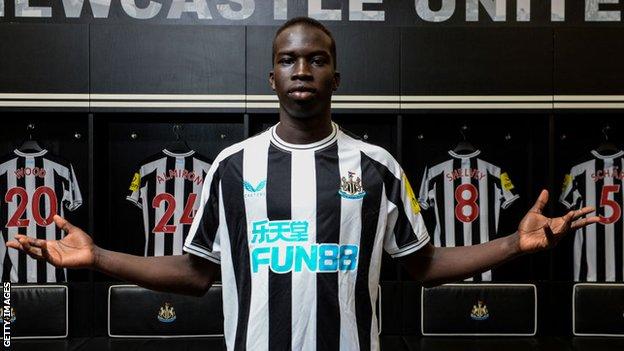 Newcastle have agreed a deal to sign 18-year-old Garang Kuol from Central Coast Mariners, with the Australian forward joining the club in January.
"It's unreal. As a young boy in Australia, the Premier League is the main thing that everyone watches but nobody actually thinks they'll reach those heights," said Kuol.
"To be one of those people, to be in the position I am, it's amazing."
Newcastle reportedly paid an initial £300,000 before add-on clauses.
"He's very sharp, agile, quick, a good finisher," said Newcastle manager Eddie Howe.
"He's got a lot of very positive ingredients. That is going to be nurtured and developed in the next couple of years to get him at the right level for the Premier League.
"I met him for the first time in person yesterday. That was a very good conversation. He is a very confident, independent lad who has got high motivation."
Kuol earned his first Australia cap last week becoming the youngest player to represent his country since former Leeds and Liverpool Harry Kewell in 1996.
Kuol, who only signed his first professional deal in June, has emerged as a late bolter for the Socceroos' Qatar 2022 squad after four goals in his seven substitute appearances for the Mariners.
He also impressed in a cameo in a post-season friendly against Barcelona, earning praise from opposition manager Xavi.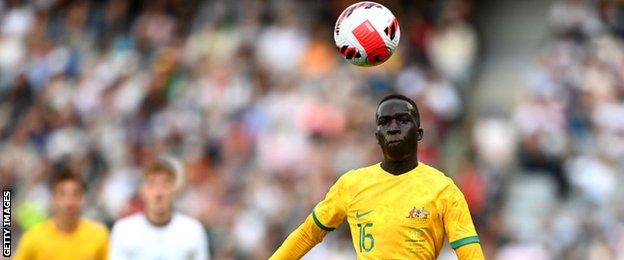 "Now that I've signed for Newcastle, I want to train hard, play hard, hopefully go to the World Cup and come back here," Kuol added.
Born in Egypt, Kuol and his family arrived in the country as refugees from South Sudan. His elder brother Alou moved from the Mariners to German side Stuttgart in 2021.