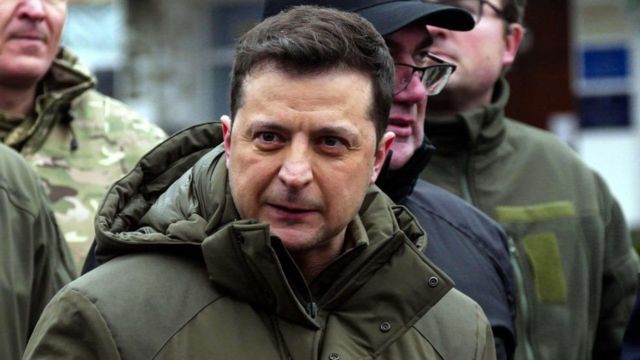 Xilli Ukraine ay wajahayso marxaladdii ugu adkeyd tan iyo burburkii Midowgii Soofiyeet, ayaa caalamku waxa uu indhaha ku hayaa hogaaminta Madaxweyne Volodymyr Zelensky ee xaaladdan halista ah.
Zelensky ayaa dalka Ukraine uga soo caan baxay majaajilo telefishin ka bixi jirtay oo lagu magacaabi jiray servant of the people, isagoo metali jiray inuu yahay madaxweyne.
Bishii April 2019 ayaa loo doortay madaxtinnimada dalkiisa, isagoo ka guulaystay Madaxweynihii talada hayay, Petro Poroshenko. Zelensky ayaa hadda waxa uu hogaamiye u yahay 44 milyan oo shacab ah, kuwaas oo wajahaya khatar uga imanaysa milateriga Ruushka.
44 jirkan ayaa ilaa hadda si wanaagsan u maareeyay xaaladda, waa sida ay qabaan qaar kamid ah falanqeeyayaasha arrimaha siyaasadda dalkiisa.
Waxa uu taageero buuxda weydiistay dalalka Galbeedka, isagoo dhanka kale ku baaqay in aan la argagax gelin shacab weynaha oo aan laga badbadin wararka ku saabsan xiisadda.
Balanqaadkiisii hore
Markii Zelensky uu xilka la wareegay 20-kii May 2019, waxa uu ballanqaaday inuu soo afjarayo colaadda Bariga Ukraine, taasoo galaafatay noolasha in ka badan 14,000 oo qof.
Markii hore waxa uu damcay inuu tanaasul sameeyo. Waxa uu wadaxaajood la fulay Ruushka, iyagoo is weydaarsaday maxaabiis, isla markaana u jeestay fulinta qeybo kamid ah heshiiskii Minsk.
Hase yeeshee dareenkaas dib u heshiinta ah waxaa caqabad ku noqday go'aanka uu Madaxweyne Vladimir Putin baasaboorka Ruushka ku siiyay shacabka ku nool deegaannada Bariga Ukraine. Colaadda deegaannadaas ayaa xabbad joojin laga gaaray bishii July 2020, balse dagaallo goos-goos ah ayaa weli sii socday.
Madaxweyne Zelensky ayaa sanadihii dambe go'aansaday inuu xoogga saaro in Ukraine ay xubin ka noqoto Midowga Yurub iyo gaashaan buurta NATO. Tallaabooyinkaas ayaa ka caraysiiyay Madaxweyne Putin.
Todobaadkii hore, Madaxweyne Zelensky ayaa billaabay inuu shacabkiisa u diyaariyo duullaanka laga cabsi qabo inuu qaado Ruushka, waxaana uu booqday ciidamo ku sugan aaggaga kala duwan ee jiidaha hore.
Madaxweyne Putin, ayaa Isniintii wareegto uu soo saaray ku shaaciyay in laba gobo loo kamid ah Ukraine uu u aqoonsaday dalal madax bannaan.
Labada gobol ayaa kala ah Donetsk iyo Luhansk, waxaana sanadihii dambe ku dagaallamayay xoogag gooni u goosad ah oo taageero ka helaya Moscow iyo ciidamada Ukraine.
Aqalka Kremlin ee Ruushka ayaa sheegay in Putin uu go'aankaas ku wargeliyay hogaamiyayaasha Faransiiska iyo Jarmalka.
Waddamada Galbeedka ayaa marar badan uga digay Ruushka inuu dalal madax bannaan u aqoonsado gobolladaas, waxaana tallaabadan cambaareeyay inta badan dalalka caalamka.
Putin oo shacabka dalkiisa la hadlay ayaa sheegay in Ukraine aanay weligeed noqon qaran dhab ah, isagoo madaxda dalkaas ku eedeeyay musuq-maasuq. Saacado kadibna ciidamada Ruushka ayaa gudaha u galay gobollada uu aqoonsaday Putin.
Qaar kamid ah waddamada Galbeedka oo ka falcelinaya tallaabadaas ayaa cunaqabateyno kala duwan ku soo rogay Ruushka, gaar ahaan bangiyada iyo tujaarta waddankaas.